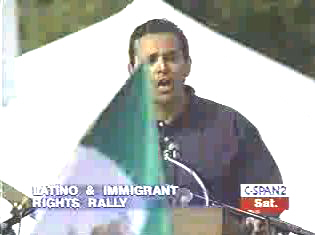 Hoy, siento orgulloso de ser Mexicano, de ser Latino!...

Translation:

Today, I feel proud to be Mexican, to be Latino!...

But Antonio Villaraigosa, whose nationality is not Mexican, made it a point to NOT say that he was proud to be an American

ANTONIO VILLARAIGOSA

SEPARATIST MEXICAN NATIONALIST

1996 Latino & Immigrant Rights Rally (MARCHA), Washington D.C.

All photographs, sound clips, and video clips on this page are actual and unedited

Antonio Villaraigosa

------------------------->

Brown Beret, Aztlan foot soldier is body guard for
Gutierrez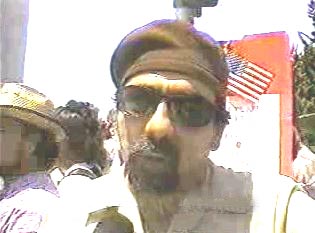 Cebeda had this to say in 1996 at a demonstration at the Federal Building in West Los Angeles.



To learn more about Juan Jose Gutierez, Click Picture

Shown below, Antonio Villaraigosa and foot soldier of the Brown Berets of Aztlan, stand at the sides of "Marcha" organizer, Juan Jose Gutierrez,  in support of amnesty for eleven million illegal aliens.

Brown Beret "Minister of Information" for the militant Brown Berets of Aztlan, Augustin Cebeda (aka Augustin Zapata) and Antonio Villaraigosa share the same common cause of reclaiming "Aztlan."