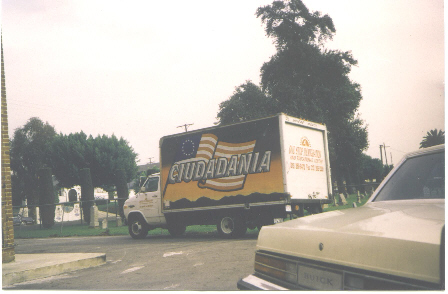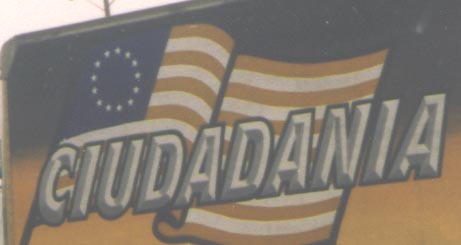 One of

ANTONIO VILLARAIGOSA'S

best friends is

JUAN JOSE GUTIERREZ

who insults Americans

Gutierrez ran One Stop Immigration which used a van paid for by American tax payers, which had painted on its sides, an offending thirteen star American flag (meant to imply that the sovereignty of the U.S. does not extend beyond the original thirteen colonies).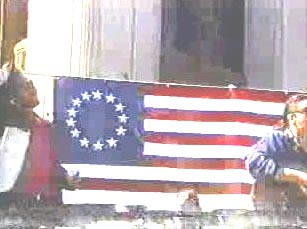 Below: Gutierrez, who received government grants to run his "One Stop Immigration" organization, shows his "gratitude" to Americans by displaying a thirteen star American Flag at a celebration at One Stop Immigration.

The pictures below were taken at the downtown Los Angeles Anti-Prop 187 protest demonstration hosted by Gutierrez. Picture at left shows Gutierrez standing casually in front of his 13 star flag, chatting with someone (later identified as Fabian Nuñez) while mariachis play the U.S. National Anthem. Picture below at right shows Gutierrez snapped to attention with his right fisted hand over his heart and left hand extended in a Raza Power fist while mariachis play the Mexican National Anthem.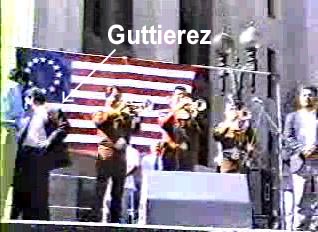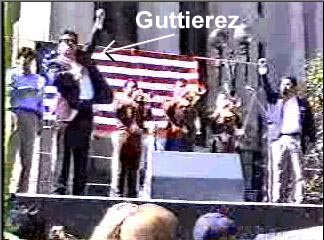 Antonio Villaraigosa who was present at this event, ingratiated with Gutierrez in mocking American sovereignty.